Talk about a multi-use facility.
For decades the land between (and slightly behind) the North Bay YMCA and Memorial Gardens served as a baseball diamond. Then it was repurposed to address the need for parking after the arrival of the North Bay Battalion.
They paved paradise, put up a parking lot, and now the City of North Bay is taking some of that land back to join in a partnership with various entities to make North Bay more energy resilient. OK, they didn't actually pave the ball diamond, they just pulled up the grass and started parking there, but you get the idea.
Now, a portion of that parking lot will house the Community Energy Park microgrid project, which saw its official groundbreaking celebrated Friday in a persistent rain. North Bay Hydro Services, first responders, and local engineering and construction companies Induspec, Piotrowski Consultants, and Kenalex joined the City for the ceremony.
When asked about removing parking used for big events, such as Battalion games, Mayor Al McDonald says that losing a few parking spaces was worth it for such a worthy endeavour.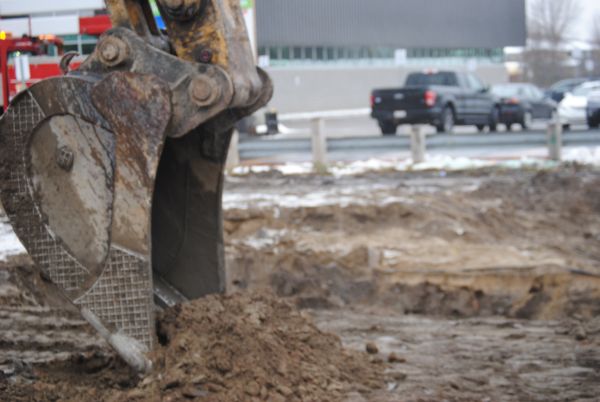 North Bay Hydro's Todd Wilcox says that the microgrid at the North Bay YMCA and Aquatic Centre will supply over 55 per cent of the heating requirements for the Aquatic Centre and Memorial Gardens. The Community Energy Park promises to combine the electricity and heat of a cogenerator with solar power to supply 87 per cent of the electricity needs for the YMCA, Aquatic Centre and Memorial Gardens, for a price tag of $4.5 million.
McDonald says that the project will save $200,000 in electricity and heating costs incurred by the City, yearly, upon completion. The Mayor adds that there is hope that the other levels of government will come through with funding for some of the project. So far, $1.6 million in funding has been confirmed, with a potential for $2.5 million more in government grants.
When it is finished, the project will also serve as a standalone centre during emergency situations, able to provide shelter, electricity, heat or air conditioning. The microgrid will also provide charging stations for electric cars. It is being touted as "the first of its kind in Canada."
The Community Energy Park has a fall 2018 target for completion.