Canada's first-ever microgrid officially opened Wednesday morning and that opening took place in North Bay.
The microgrid is a project of North Bay Hydro Services, which is the affiliate of North Bay Hydro.
Unlike North Bay Hydro which distributes power, the affiliate pursues energy-related projects.
In this instance, the energy project is located between Memorial Gardens and the YMCA and is in the form of solar panels shaped like a flower.
Matt Payne, the President and Chief Operating Officer at North Bay Hydro, says the solar flower produces three kilowatts of power for the Gardens, the YMCA and Thomson Park.
Payne says the unit behaves just like a flower where it nests at night, opens up when the sun comes up and tracks the sun all day then closes again at sunset.
The facility cost $4.5 million with the province contributing $1 million, the federal government $750,000 and the city's share amounting to $261,000.
Payne says the microgrid only feeds power to the facilities on site and not the main grid although Payne says it is connected to the main grid.
That's so if the microgrid had to ever be shut down, the buildings can draw their power from the main grid.
But as it stands now on an annual basis, the microgrid provides 87 percent of the power for the two buildings and 55 percent of their heat.
Being able to create its own power means that if Ontario ever has a blackout again like the one in August 2003, the lights and heat would remain on at the Y and Gardens.
"This automatically goes into island mode and creates self-sustaining power," Payne said.
"Even if the lights go out locally, this will pick-up and provide power at all times.  It's very smart and it doesn't need human intervention.  It keeps the heat on, the lights on and creates a warm and safe environment in catastrophic situations."
Payne adds the power from the unit would be self-sustaining.
Payne says the microgrid truly is a global attraction because people are coming to see and learn about it.
That includes representatives from Hydro One and other utilities who Payne says will want to copy what North Bay Hydro Services has done.
"We'll host other communities who want to replicate this and use our design as the blueprint," he said.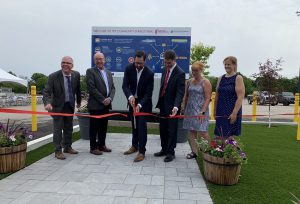 The community solar park was suggested by the utility's former head Todd Wilcox in 2015 and construction began last year.
Payne says North Bay Hydro pursued the project from a resiliency and efficiency point of view.
"This is the future," he said.
"We have to start doing things differently and North Bay Hydro Services wants to be a leader in that and be able to provide solutions to customers."