The leader of the upstart People's Party of Canada maintains growth through immigration is possible under his party's policies, if done properly.
Maxime Bernier, who formed the PPC following a split from the Conservative Party of Canada said he sees three avenues to address the lack of skilled workforce, citing increased productivity, the use of automation, and increased salaries for skilled workers to help fill some of the gaps.
"Only 26 per cent of the immigrants coming to Canada are economic immigrants [and] are coming here because we need them. We need to increase that, up to 50 per cent, that way if we allowed 150,000 immigrants per year instead of 350,000 it would be the about the same number [of economic immigrants]."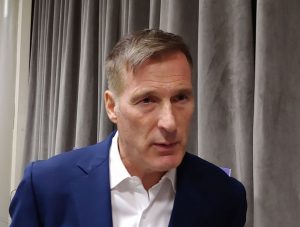 The PPC's platform literature includes a call for a reduction of immigration to prior levels, with a priority on "those who meet our economic needs," as well as ending illegal migration while promoting "the integration and the adoption of Canadian values."
Bernier maintained his plan for a flat tax on businesses of 10 per cent, with no capital gains taxation, and fewer regulations would allow business owners to invest more in their workers.
"They will have more money to give salary increases to their employees," but this goes together with increased investment in automation and economic immigration, as well, added Bernier.
Mark King, the PPC candidate for Nipissing-Timiskaming said, "The question is, do we have too many people, in the province, coming in too quickly and we can't provide the necessary services?"
"I really do support the policy of the People's Party on immigration…When I think about hallway healthcare, the problems inside the health care system, I think about southern Ontario. That is a serious issue the province is facing. There is no question there is a total disconnect right now between the federal and provincial governments."
King said after the rally at the Davedi Club on Saturday evening he and his team were pleased with the turnout, estimated at over 200 people.
When asked how the PPC policy on immigration fits in with the City of North Bay's steadfast support of immigration in the quest for growth, King responded, "Can we actually support people who live here now that are used to particular services? And, can we support all these new proposed Canadians coming in from other countries? That's a real question."
The candidates in the October 21 federal election for Nipissing-Timiskaming are the NDP's Rob Boulet, the Conservatives' Jordy Carr, Alex Gomm of the Green Party, the PPC's Mark King and Liberal Anthony Rota.