Picketing continued at several local schools, as well as in front of Nipissing MPP Vic Fedeli's constituency office, Tuesday.
Dozens of Elementary Teachers' Federation of Ontario (ETFO) members marched on North Bay's downtown core, including Dianna Lewis, a special education resource teacher at White Woods Public School in Sturgeon Falls.
Lewis, wearing a placard reading: "Special ed cuts affect all students," expressed concern for the public education system, especially the students with exceptionalities she works with daily.
"It's hard enough to keep up with all of the special needs, in addition to regular needs, but we're managing," said Lewis. "We spend a lot of extra hours planning, we spend a lot of extra time trying to find ways to help kids. We spend a lot of time on meetings with parents who have difficulty helping their own kids. We want to help [parents] help their own kids."
Lewis said the struggle is all too real for all teachers and educational staff in a school environment that is so inclusive, many students in one classroom could have special needs such as autism or difficulty reading. She said more cuts could lead to an exodus of exasperated teachers leaving the profession.
"We're already working as hard as we can to keep things going," she added. "If it's cut more, than we are really going to be losing the kids, losing the teachers, people are going to be off on sick leave, kids are going to have more mental health issues because right now, we're just trying to buoy them up with the system we have."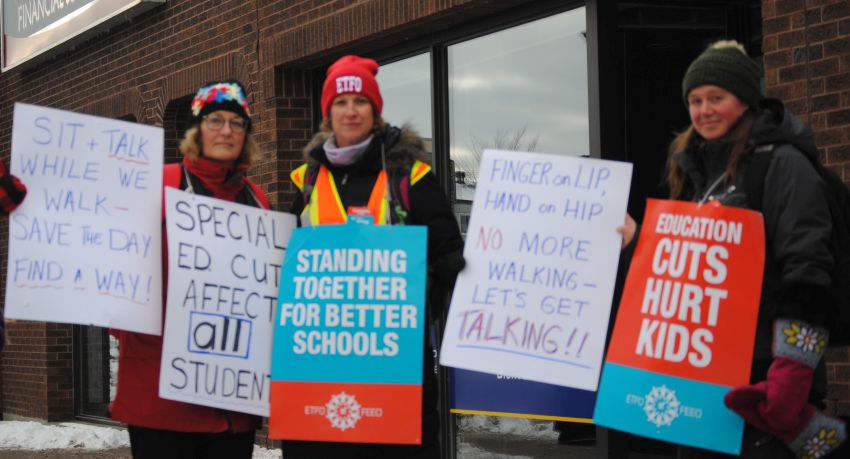 Teacher Erin Graham-Mitchell said further cuts to a system already stretched thin would be disastrous. She indicated the government's proposed changes to special education are heading in the wrong direction, and if anything, should be increased.
Fedeli was not in the office but did release a statement on the ongoing labour dispute:
"Our government has put forward reasonable proposals at the negotiating table, including a commitment to maintain full-day kindergarten, and it is deeply disappointing parents are still seeing repeated escalation at the expense of our students to advance higher compensation, including more generous benefit plans.
"We firmly believe students should be in class, and we continue to stand ready to negotiate and reach a deal Ontario students deserve."