A North Bay brewery has received  $294,000 from the Ontario government to help in its production of hand sanitizer.
At an event at New Ontario Brewing's new location, Vic Fedeli, Nipissing MPP, announced the funding as part of the Ontario Together Fund.
"Our fight against COVID-19 continues and we applaud local businesses like New Ontario Brewing that have stepped up with solutions to help at a critical time," Fedeli said.
At the beginning of the pandemic, Premier Doug Ford put forth an announcement calling for Ontario businesses to help produce personal protective equipment (PPE) due to a shortage in the province.
Mike Harrison, President of New Ontario Brewing, says that his decision to switch into the production of hand sanitizer was one made out of necessity.
"I went to the store to buy hand sanitizer and I couldn't. My wife went to the store and she couldn't. My partner and I were sitting here having a discussion and thought: 'we can do this here," Harrison said, adding that his staff and facility were well-equipped to transition into hand sanitizer production.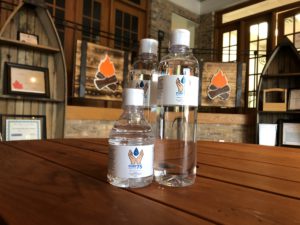 "We make alcohol for a living. If we're going to make it at 12 percent, we're also going to make it at 95 percent. It's a pivot in a couple of pieces of technology and it's an investment but in the end, we're making alcohol so it's something that we're very comfortable with," Harrison added.
New Ontario's Brewing is able to produce up to 2,500 litres of its hand sanitizer, PureNorth per day. Harrison says that the majority of his stock has gone to clients around the province, including the North Bay Regional Health Centre.
The ingredients to make PureNorth are also sourced within the province, with the ethanol being produced from Ontario-grown corn.
Harrison says that the $294,000 will go towards offsetting the costs of transitioning into hand sanitizer production, which the brewery is doing alongside its usual production of beer.