Nipissing MPP Victor Fedeli is fully behind the Conservative Party of Canada's appointment of Erin O'Toole as its new leader.
During an event on Monday, Fedeli was asked to comment on the new leader.
"Erin O'Toole is a great guy. My record will show I donated to Erin. I've worked with Erin, I've worked in the legislature with his father, John O'Toole for six-and-a-half-years. They're a great family," Fedeli said.
O'Toole was named the new leader of the CPC in the early hours of Monday morning after numerous delays to the announcement because of malfunctioning ballot machines.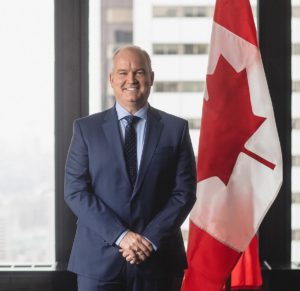 The Durham MP earned the party leadership position on his second try, losing to outgoing CPC leader Andrew Scheer in 2017.
Fedeli, who has been involved with Ontario's Progressive Conservative party since 2011, says that O'Toole has some key characteristics.
"He's a great Canadian. He is one of the hardest working guys you'll meet, and he's compassionate," Fedeli said.
The Minister of Economic Development, Job Creation and Trade is confident that O'Toole will be successful in taking back the Prime Minister's office in the next federal election.
"You'll find that Erin is a good listener and he is going to make a fabulous leader of the Conservative Party of Canada but he is going to make an absolutely spectacular Prime Minister of Canada," Fedeli said confidently.
Erin O'Toole spent 12 years in the Canadian Armed Forces, then a decade as a lawyer before entering politics in 2012.