North Bay's second annual Culture Days Festival launched month-long virtual programming with the aim of bringing the area's diverse community together during trying times.
Reinalie Jorolan, an organizer with Nipissing Culture Days, says that the goal of North Bay's second annual cultural festival is simple.
"We cannot deny the fact that this pandemic has brought us on our knees. For us local leaders of arts and culture, we want to say when the world brings us down to our knees, we want to go higher and celebrate it," Jorolan said.
In 2019, Ontario Culture Days supported over 150 communities across the province to be able to hold cultural celebrations, including Nipissing Culture Days.
Last year's festival ran over a weekend, but with the pandemic this year, the event will feature a mixture of in-person and virtual events from September 25 to October 25.
Chantal Phillips, Co-Chair for the Nipissing Culture Days Committee, says that this year's programming includes virtual cooking lessons of international cuisines, art shows and virtual diversity workshops.
"I just really hope to lift everybody's spirits at this time. Our primary motivation is to have an appreciation for what we all bring to this community and that feeling that we all add something that makes us better together," Phillips explained.
Nipissing Culture Days operates in partnership with a local art collective, receiving support from the City of North Bay, local businesses and community organizations to show off the diverse culture of the area.
Saturday's Colours of the Wind art exhibit near the North Bay Museum had drum circles, artwork, and homemade traditional masked puppets dancing.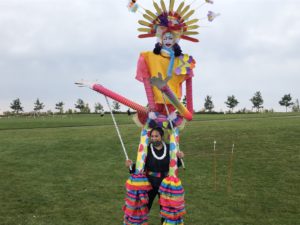 Reinalie Jorolan, who donned the largest of the masked puppets, says that it is a tradition in the Philippines for people to wear the puppets during a celebration which was born out of a tragic shipwreck. She says the masks traditionally represent people's smiles, honouring the lives lost in the tragedy.
Jorolan says the symbolism during Nipissing Culture Days Festival has a slightly different meaning.
"This year, we are unified by one mask and it is the mask of pandemic and also a mask of fear," she said.
Chantal Phillips agrees with Jorolan's sentiment that the festival should be a time to take a step back from the stresses of the world.
"I think there's kind of a heavier feeling at this time of year when there's a lot of concern for people's health and safety. So, I'm just hoping people are going to enjoy it," she said.
Jorolan, who has been involved in both Culture Days Festivals, says that she hopes that those who take part in this year's festival will internalize her team's message.
"Call me crazy but what my folks have done here is a labour of love. This is something that we'd like people to know: when the world brings you down to your knees, you can always rise up and be bigger, brighter, louder, and more comfortable," she finished.