North Bay OPP is asking the public for information after a police cruiser and multiple signs were vandalized in Mattawa.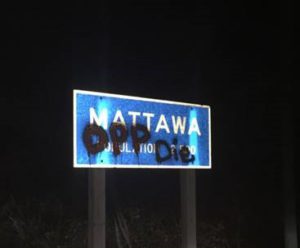 Early Monday morning, officers noticed that a car behind the Mattawa detachment of the OPP had orange spray paint on it. After further investigation, police found two other vehicles with paint on them. 
Police also noticed that multiple signs around Mattawa had also been spray-painted with hostile messages directed towards the OPP.
Police are asking anyone with information regarding this mischief to contact the North Bay OPP at (705) 495-3878 or toll-free at 1-888-310-1122.  
Should you wish to remain anonymous, you may call Crime Stoppers at 1-800-222-TIPS (8477). You can also submit information online at www.nearnorthcrimestoppers.com. Being anonymous, you will not be required to testify in court and information you provide may lead to a cash reward of up to $2,000.