North Bay police have asked the public for help in identifying a man who is a suspect in multiple thefts over the past week.
Police say they suspect the man was involved in vehicle thefts in the Cedar Heights area of the city. Constable John Schultz says that they suspect the man stole a pickup truck, which was eventually recovered.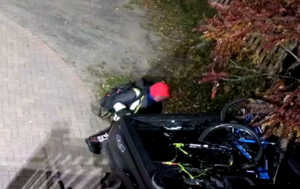 Schultz describes the suspect as a White man, medium height, thin build with a medium skin complexion and dark eyes. He adds that the man's coat, which appears to have reflective tape on the armbands may be a key indicator.
If you are in a situation where you may see a crime in progress or a potential suspect, Schultz has some tips on what information to provide police:
Give an exact location with street names
How fast was the suspect going?
What direction were they going?
Take notice of the colour of clothing
Look for any limps or distinguishing mannerisms
See if the person is carrying anything
Anyone with information is asked to call the North Bay Police Service at 705-497-5555 and select
option 9 to speak to a police officer. Constable Hofmann is the investigating officer.
For those who wish to remain anonymous, contact Near North Crime Stoppers, by calling 1-800-222- TIPS (8477) or by submitting a tip online at nearnorthcrimestoppers.com.