Locating missing persons will be easier thanks to the official unveiling of Project Lifesaver.
The project is in partnership with the North Bay Police Service (NBPS) and BAYSAR Search and Rescue. Officially unveiled on Friday morning, Project Lifesaver equips people in the community with cognitive impairments with a radio transmitter that will allow rescue teams to quickly find them should they wander off on their own.
Stan French, President of BAYSAR says he's glad that the technology is finally being rolled out in the North Bay area after nearly a full year of planning.
"I'm extremely proud. It's been challenging to say the least," French said at the unveiling. The idea for Project Lifesaver was hatched two years ago when BAYSAR was invited to a forum on missing persons being held by the Alzheimer's Society where a presentation was given on the US-based program.
Last year, French and BAYSAR began working toward becoming a member of Project Lifesaver, getting support from the NBPS board.
French says seniors with Alzheimer's or dementia or children with autism will benefit most from the project. He says nine people have already signed up for the service, which costs $100 initially, with a $20 monthly service fee.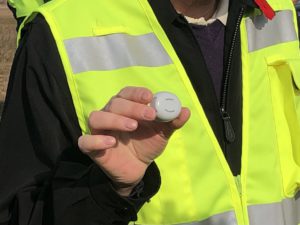 The families will then be given a sensor that will be strapped to the wrist or ankle of the person at-risk so they can be tracked through a radio signal unique to each person. There are 27 total spots available in the North Bay and Callander region.
NBPS Chief Scott Tod says the partnership between BAYSAR and his police service will significantly improve missing person investigations.
"We're talking minutes, not hours or days anymore. When you consider the weather conditions we see in northern Ontario, minutes could say lives," Tod told the media at the event.
Tod adds it's "not uncommon" for the same person to be reported missing more than once, making Project Lifesaver a valuable tool for both police and families.
Stephanie Leclaire, Executive Director of the Alzheimer's Society for northeastern Ontario, says the new technology will be welcome in the area.
"With our ageing population, something that's important is making communities senior-friendly and I think this partnership shows the community is making North Bay and the district senior-friendly," she said.
Leclaire says 60 percent of dementia patients will seek to wander off at one point or another during their diagnosis.
"People get disoriented and sometimes it happens without warning," she explained. "For the family and friends of people living with dementia, we know that a tool like this will give security to them that their loved one is safe."
The NBPS has trained 20 emergency response officers to use the new technology. When a missing person with Project Lifesaver is reported, BAYSAR and the NBPS will work together using the radio frequency to find them.
Stan French says that he hopes to expand Project Lifesaver to surrounding areas like Sturgeon Falls, Sault Ste. Marie and Sudbury, but would need the OPP to adopt the technology which would cost at least $9,000 to start.
For those wishing to get Project Lifesaver for a loved one, contact One Kids Place, the Alzheimer's Society or BAYSAR directly.