The Ontario government says their new transportation plan will connect the north, all while supporting economic development and job creation.
It released its draft of the plan this morning and says it's delivering on its commitments to build a better transportation network for the region.
Some Northeastern Ontario highlights include:
 continuing to advance design work and construction for widening Highway 69 from two to four lanes
continuing to move forward on passenger rail services by working on a track audit by working with the ONTC, to begin an initial audit of ONTC-owned tracks on a section of the North Bay corridor.
complete the planning, preliminary design and Environmental Assessment for the Little Current Swing Bridge on Highway 6 by Fall 2021
support local public transportation services in the north and increase overall ridership through Ontario's Gas Tax program (ie: in 2019 Elliot Lake used more than $90,000 towards the purchase of three conventional transit buses)
 completing the Environmental Assessment and preliminary design for the Cochrane by-pass from Highway 11 to Highway 652 by Fall 2023, diverting approximately 960 vehicles and 195 trucks per day from municipal roads.
The plan outlines more than 60 actions to expand highways and transit services, create Northern economic opportunities, keep people safe and provide reliable travel options for remote and First Nation communities.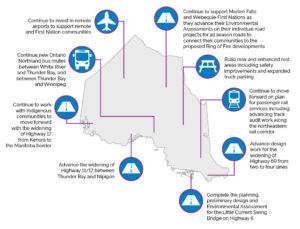 It includes improvements to rest areas, expanding bus service and moving forward with highway widening projects on key corridors in the region, such as Highway 11/17. It also includes actions to make further progress on our plan for passenger rail service in the North.
"Northern Ontario has unique transportation needs and this draft plan will make real improvements to transportation in the region," said Caroline Mulroney, Minister of Transportation. "Our plan will help create a well-connected transportation network for the North to make it easier for people to get to critical services like healthcare, while supporting more well-paid jobs through investments in infrastructure."
The government says the draft transportation plan is a living document that will continue to evolve, and they will continue to work closely with the federal government, municipalities, Indigenous communities and organizations, transportation agencies and local businesses to gather input and feedback on the plan.