Pierre Poilievre is running for Prime Minister because he wants to put you back in control of your life and make Canada the freest nation on earth.
That's what the Federal Conservative leadership candidate told the crowd at the Elk's Lodge in North Bay on April 24.
He spoke to hundreds, sharing what a Conservative government under his leadership would do.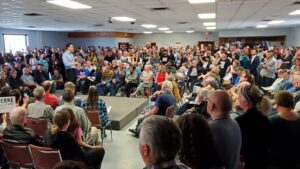 Poilievre said he's going to fight for your freedoms, whether it's your medical freedom, the freedom to afford groceries, or the freedom to buy a home.
"Whether it's the 14-year-old girl suffering depression after two years separated from sports and social activities, or the single mother who lost her job because of a personal medical decision," said Poilievre. "Or whether it's the small businessman who mortgaged his house to start up a restaurant only to have it closed so many times he couldn't afford to open it anymore or the hard-working trucker who delivered our goods and services across the border only to be called a criminal by our Prime Minister."
Poilievre said when truckers were "peacefully protesting on parliament hill, liberals like [Justin] Trudeau and [Jean] Charest called them criminals".
"Our truckers, just like everyone else, have the freedom to stand up for their lively hoods and liberties and I was proud to stand there with them," he added.
Poilievre said he will fight back against 'discriminatory and unfair vax mandates' and fight to get them all eliminated.
"Inflation has priced four out of 5 families out of their diets," added Poilievre, who said families have been forced to cut back in a variety of ways. "Lost the freedom to go for a hunting or fishing trip on the weekend because gas ia 93 centre a litre and you can't fuel up your truck."
Poilievre said the 30-year-high in inflation is due to both printing money and overspending by the government.
"There are more dollars charing fewer goods. The more the government spends, the more things cost," he said, adding the federal government has created $400 billion in new money.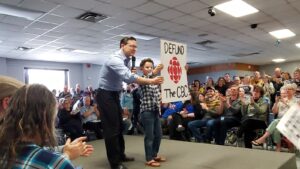 Poilievre said he wants to make things make 'cents' again by balancing the budget which would include reducing extra spending, cancelling the country's infrastructure bank, and defunding the CBC.
Poilievre said his government would also build 'Canadian pipelines with Canadian steel and bring Canadian energy to Canadian consumers', removing the need of importing 'dictator oil'.
After his speech, Poilievre spoke to and shook hands with residents who were lined up outside to meet him.
The Conservative Party of Canada's leadership election will take place on September 10.