Community Day at the official opening of COBS Bread was a success. 
All of the revenue generated by the city's new bakery on June 29 has been donated to the North Bay Regional Health Centre Foundation.  
A cheque for more than $7,400 was presented to the hospital foundation on Thursday.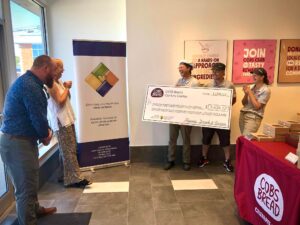 "We decided to partner up with the North Bay Regional Health Centre Foundation because they have been and continue to be there for so many people; most recently over some of the toughest years we've seen in a while," states a post on social media.  "It's was our opportunity to give back and say thank you. We can't thank the community of North Bay & surrounding areas enough for their incredible welcome and support they have given us as a new business." 
COBS Bread is located on Shirreff Avenue in North Bay. 
Officials say items are baked fresh every day with leftover baked goods at the end of the day donated to local charities.