The weather is forcing a change in venue for Saturday's line-up during the 2nd annual World Culture FusionFest.
Dozens of artists are joining forces for the free two-day event.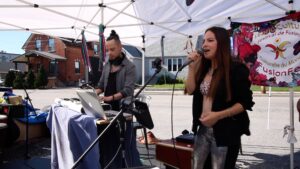 "Last year's FusionFest was a three-stage 'Street Party'," says Dermot Wilson, of the host organization, Nipissing Region Curatorial Collective. "This year we are expanding the program to include Gaelic, South American acts and an amazing Indigenous ensemble led by Sunny-O on the native flute."
Because of the forecast, the event is now taking place at 151 Main Street East on Saturday. 
Sunday's events are taking place at 176 Lakeshore Drive and 161 Couchie Memorial Drive. 
For more information visit: www.worldfusionfest.com