North Bay's waterfront beach is now officially Shabogesic Beach. 
A dedication ceremony and monument unveiling was held on Sept. 22. 
The beach is named after Nbisiing Nation Chief Michel Zhaabgiizhik, who was a signatory to the Robinson Huron Treaty of 1850. 
Chief Scott McLeod, Zhaabgiizhik's fourth-generation great-grandson, says this collaborative renaming is significant for Nipissing First Nation.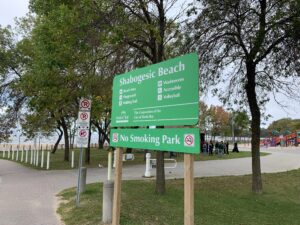 "For the longest time our history and our presence wasn't even recognized," he says. "In the last decade or so that's starting to change and it's events like these that are really part of the Truth and Reconciliation that we need to see happening." 
McLeod notes that the beach is actually on land that was originally supposed to part of Nipissing First Nation.
"This would have been part of the reserve based on what was negotiated, but history
happens and it is now a part of the City of North Bay," he says. "It is very significant."
Back in early May, council in North Bay unanimously approved the renaming of the beach. 
The former name, Marathon, carried over following the city's purchase in 1984 of the lands from Marathon Realty, the Canadian Pacific Railway's former commercial real estate subsidiary.