A local video production, DJ and entertainment service provider says business is picking up, but it's not yet back to pre-pandemic levels. 
Kyle Selle, owner of Sellebration Productions says the pandemic brought business to a halt. 
"Like zero.  It shut right down to where I was more or less just playing music for myself," he says.
Selle says they started to get more event bookings again in the spring. 
"Probably about April when stuff started to loosen up a little bit.  We started to see more events, more corporate things coming in, weddings, birthday events and reunions," he says. "The fall was pretty good, but not as good as 2019 when we were busy, busy, busy."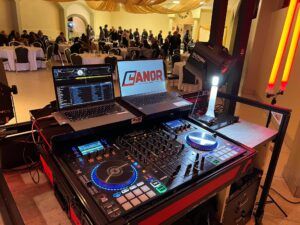 Selle says the Christmas season has picked up quite well.  
"We're probably about at 80 percent of where we were in 2019," he says. 
Selle says a booked night typically has six events, with one or two events still available for most weekends right now.
"The ultimate goal is to have six events every single Friday and Saturday," he says. "We're starting to get close to that."
Selle also has a large wedding exhibition coming up on January 21 at the Best Western. 
"The goal is for it to be the biggest one that we've ever had.  We've been doing this for multiple years and usually we tap out at 25-30 vendors," he says.  "My goal now, as we've already hit the 30 mark, is maybe 50 vendors so future brides and grooms come in and they have so many more options to experience and have access to compared to years prior." 
Those interested in booking events or getting involved in the upcoming wedding show, can email [email protected]