Officials with a local house league hockey tournament are extolling the economic benefits the event is having while also highlighting the need for ice time. 
This as North Bay's new council will be voting at some point to either approve the proposed twin ice pad community and rec centre project, or not.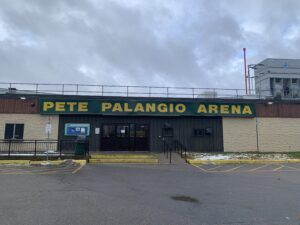 Rob Fiddler, director with the North Bay Minor Hockey Association says over 40 teams are playing nearly 100 games in the U11 to U18 tournament this weekend in North Bay.
"There's a lot of pressure to keep those ice times rolling, with the limited ice we do have," he says. "There's not a lot of time in between games, we have to keep things on track." 
Fiddler says they're using all three rinks all weekend long.
"If we had more ice times we would be able to facilitate more tournaments, it's just that simple.  With limited ice comes limited tournaments," he says. 
As for the economics, Fiddler says this tournament is generating revenue in the city. 
"Each team has roughly 15 players, so if you do the math plus parents, that's a significant number of people in town," he says. "I know our hotels are full." 
Teams are coming to North Bay this weekend from up and down Highway 11, from Muskoka to Timmins, and along Highway 17, from the Ottawa area to Sault Ste. Marie.