Nearly $1.9 million in provincial funding is supporting the expansion, research and development of new and innovative technologies locally. 
Three local companies are receiving funding.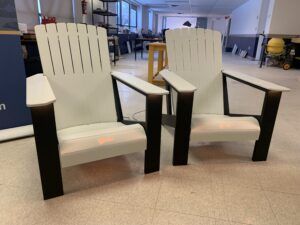 Vic Fedeli, Nipissing MPP announced most of the Northern Ontario Heritage Fund (NOHFC)  money, $1.3 million, goes to Wrmth, which designs and manufactures heated outdoor furniture. 
John Pomeroy, co-founder of Wrmth, says the heated Muskoka chairs are proving to be popular. 
"In the dead of summer when you think heated chairs, why would you need them, on a dock at a party there was a fight over who got to sit in the chairs," he says.  "One woman even paid a girl $20 while she went to the washroom so that she could get the chair back when she came back.  You can see that there's an application for it.  It isn't just when there's snow on the ground, it works year-round."
Pomeroy says the money from NOHFC will be primarily used to build out their permanent operation on Commerce Crescent.
"We're buying manufacturing equipment, C&C equipment, we're buying very large 3D printers and a couple of specialty pieces that are unique to our operation," he says.  "It'll also be used for some additional research and development.  We're developing our own branded version of material that we will use to make the chairs out of in the future."
One Red Maple receives nearly half a million dollars to enhance their web-based technology that allows people to search and buy products locally instead of from larger big-box and online retailers. 
Fedeli says the tech sector is growing locally with these companies. 
"ThinkOn, the last company we announced, One Red Maple and now Wrmth, these are tech plays," he says. "That's the way of the future and really important for our graduating university and college students to know that they can end up with a tech job here in the City of North Bay." 
Cuna Railway Innovation, which provides railway services and inspection, maintenance and snow clearing is receiving nearly $68,000. 
The money will be used to purchase specialized equipment and train staff.