A great outpouring of kindness from the community.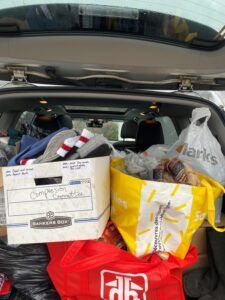 Those words from Leah Pierce, Chair of the Compassionate Committee for the Homeless in North Bay after their recent Soles for Souls donation drive.  
"Organizations like The Aids Committee of North Bay, Healthy Community Ambassador Program, Open Arms Café, Boots on the Ground and Hope Awaits Ministries Men's Shelter were very excited and thankful to receive the brand-new mitts, thermal socks and boots to clothe the homeless," she says. 
Five trunks were filled with hats, mitts, scarves, and thermal socks, and 60 pairs of brand-new winter boots were donated to the homeless. 
The committee also received coats, blankets, and warm clothing that were also donated to the homeless.
The committee is now making plans for their Backpacks of Love summer campaign, with backpacks filled with essential items for the homeless.