The North Bay Minor Hockey Association and others are leading the charge to raise funds to help out a long-time local volunteer.
Darrell Pitman, Association president, says Willie Cowie has volunteered and coached for them for over three decades, was the President of Blue Sky Bingo Hall for years and assists with serving meals at the Davedi Club. 
"If there's a kid and he needs a new pair of skate laces, Willie would take his last five bucks and go get the kid skate laces," Pitman says. "He wouldn't have any money left but he'd go do that and be happy with it."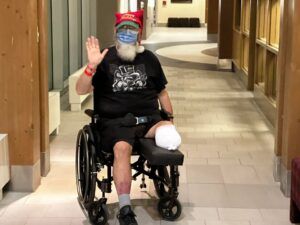 Pitman says Cowie, who's living on a small pension, was admitted to the hospital in November and had a leg amputated because of diabetes.
They're raising funds to help him return home. 
"He's going through lots of challenges," Pitman says. "So we can get him back into his house, get everything he needs, wheelchair, posts, grab bars. It's a big change in his life." 
Pitman estimates the cost to be about $10,000 to $15,000. 
A GoFundMe page has been set up along with a 'Team Willie' Facebook page to provide updates. 
Cowie was recognized by the Northern Ontario Hockey Association as the 2021 winner of the Angus Campbell Merit Award, which is awarded to an individual for outstanding service to the game other than as a player.