A contemporary art festival returns to Lake Nipissing next month. 
The 10th edition of Ice Follies runs Feb. 10-24 on Shabogesic Beach. 
'Thin Ice' is the theme with several regional and national artists taking part, with 13 art projects lined up.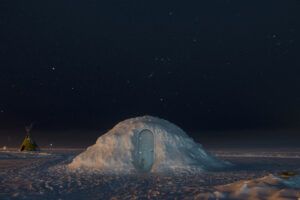 "It is super amazing to participate in a winter exhibition that is a cure to the February blues, celebrates art outside of conventional settings, and raises awareness of our relationship with our ecosystems," says Isabelle Michaud, one of the participating artists. 
Officials say the biennial event is free to attend 24/7 but there are also guided art tours of the installations for $10. 
Ice Follies 2023 is also partnering with Vox Choir, Creative Industries, Styly, Big Medicine Studios, and others to offer workshops and community arts projects. 
There's also a self-guided historical Ice Follies photo-walk through downtown North Bay, showcasing many artists from past biennials.
For more information visit: icefollies.ca