The robotics team at École secondaire publique Odyssée is celebrating a 2nd place finish in the Engineering Excellence Award at a recent competition.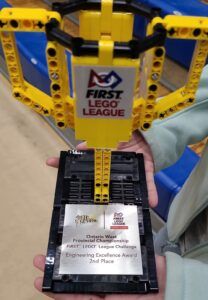 They received the honour at the provincial LEGO competition in Oshawa for their robot design. 
Six team members took part after their victory at the regional competition in December.
40 teams from across the province were there, including Odyssée. 
The local team received 245 points for the engineering of their robot, representing the highest score in the history of the Phoenix robotics team.
Officials say due to some challenges in the final round of evaluation, Odyssée placed 20th in the province.
The team is now preparing for next year's competitions.