Children in need around the world are receiving gift-filled shoeboxes from North Bay area residents. 
It's all a part of the Samaritan's Purse Operation Christmas Child campaign. 
Frank King, media relations manager, says local residents helped pack 2,146 boxes. 
"That's a good number. It's slightly down from the year before, but that's ok numbers go up and down," he says. "We just roll with the punches." 
Provincial and national figures were up though, with over 415,000 shoeboxes filled across Canada.  
King says the children have often never received a gift before and they'll know where it's coming from.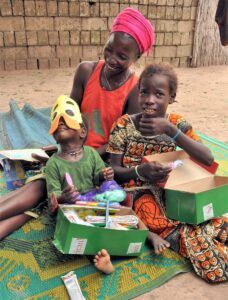 "When folks physically pack shoeboxes we ask them to put a note and a photo in each box they pack that way the children can see who packed this wonderful box," he says.  
Similar to online shopping, King says residents can pack a shoebox online at PackaBox.ca, and then upload a note and photo to go with it too. 
Samaritan's Purse says over the next few weeks, children in Ukraine, the Philippines, Central America, and western Africa will be receiving their gifts. 
Shoeboxes include toys, hygiene items, school supplies, and other items.