A structure fire on the 400 block of Main East Wednesday afternoon is being treated as suspicious. 
That from Jason Whiteley, Chief of North Bay Fire and Emergency Services.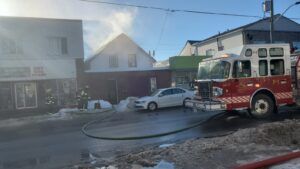 "We received a call about a possible fire in the structure and a person with a mental health crisis," he says. "When we arrived we had a working fire inside the building, crews got inside the building and put out the majority of the fire."
Whiteley says they then did another search of the building, noting they didn't locate anyone else after a primary search, but there may be pets inside. 
He says one person was injured.
"There has been one person injured during the fire," he says. "They are being transported to hospital by EMS and they are also in custody of the North Bay Police."
The call came in around 3:30 pm with smoke visible outside the building. 
Traffic is blocked off on Main Street from Fisher Street to Regina while crews are on the scene.