Opportunities to work behind the scenes on film and television productions locally are on the rise. 
That from officials associated with a Cultural Industries Ontario North (CION) film crew training session that is underway in the city. 
The free training is for those who want to start a career in the industry and includes workshops at Northern Ontario Film Studios and Canadore College. 
Ashley Nay hosted the hairstyling session on Thursday.
She says there are more and more opportunities to get involved in the industry and it's thanks to tax credits.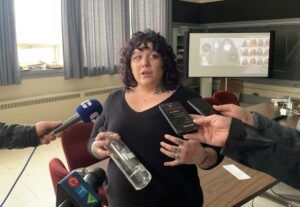 "In the beginning, we had a lot of members coming up from Toronto to help us out, get us started," says Nay. "Now a lot of the shows coming up this way are almost all northern crewed, which is excellent to see. It means the training program through the Northern Ontario Heritage Fund is working."
Once the local sessions are complete, CION says participants will have received training in the fields of Production Assistant, Grip/Electric, and Art Department.
Marc Lamothe is employed in the industry and is interested in camera and technician work, but says knowing what other people are doing on set is really important.
He says that's especially the case when it comes to union and non-union productions. 
"Just knowing what you can and can't touch, where things are going, where you should be and what you should be doing. It's all immensely helpful," says Lamothe. "A training session like this, if I got this 10 years ago, my life would be wildly different." 
Officials say information on any upcoming workshops would be posted to CION's website and on social media. 
REEL CANADA is providing funding for the sessions, which are also taking place in Sudbury and Sault Ste. Marie.