North Bay Pride is providing a boost to the city and surrounding area's economy.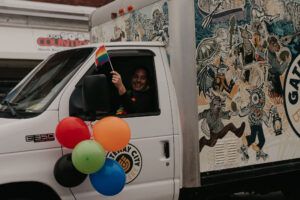 Jason Maclennan, Communications Director, says that's the finding of a report generated from the Ontario Ministry of Heritage, Sport, Tourism and Culture Industries' Tourism Regional Economic Impact Model. 
"Last year we had over 12,000 visitors and community members that came out and spent money," he says. "It's estimated that the economic impact on our community was over $4 million in the year." 
Maclennan says while there is still some work to do around inclusion and equity, he says people know they're coming to a safer city.
 "You can be who you want to be and hate has no home here. [It] plays a big factor in the success around Pride," Maclennan says. 
Maclennan also says North Bay Pride has planned some good events and attracted big names over the years. 
 "We are fortunate in North Bay to have so many community groups that work tirelessly each year to host festivals and events that bring visitors to our city and help to support the local economy," says Mayor Peter Chirico. "The City of North Bay remains committed to supporting community groups like Pride in making their festivals and events successful."
Maclennan says work continues behind the scenes on lining up this September's Pride events.