Human trafficking is happening in our community and the North Bay Police Service and partners are looking to everyone to help report it.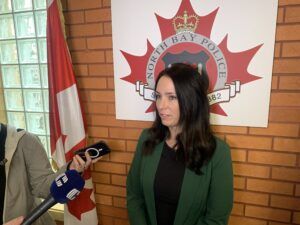 Detective Constable Matti Primeau with Anishinabek Police Service says a campaign has started involving pamphlets and door hangers with numbers to call if human trafficking is suspected.
"This is a way of showing people cues to look for, things to look for. This is what human trafficking is," she says. "Hopefully we are able to get more people reporting it so we know ahead of time and are able to intervene and help a survivor come out of her situation. "
Primeau says there are victims of all ages in our area, but it's mostly youth 13 and up and Indigenous women.  
She also says some hotels are very willing to take part in the campaign but there has been some pushback from others who may be afraid that business may go elsewhere.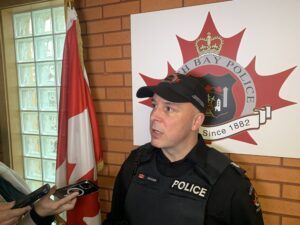 Sergeant Brad Reaume with the North Bay Police Service says much like a pilot gives instructions should a passenger plane run into trouble or buildings have alarms in case of fire, this issue needs to be discussed. 
"We need to be a little bit more frank in an effort to combat this," he says. "We need to be open and realistic and realize it does happen and it's happening." 
He says the #TimeToTalk initiative, featuring a series of videos, launched in 2021 to promote the reporting of activities or behaviours around substance use, addiction, mental health and human trafficking. 
"It's to try to break down that stigma of reporting crimes, reporting any type of behaviour in the very early onset of it, before it manifests," Reaume says. 
Officials say if human trafficking is suspected, people can contact police, victim services or Crime Stoppers to remain anonymous.