Over 180 walkers and 36 teams took part in a successful Coldest Night of the Year fundraiser for The Gathering Place Soup Kitchen. 
At last check, over $55,000 has been raised, surpassing the goal by at least $10,000.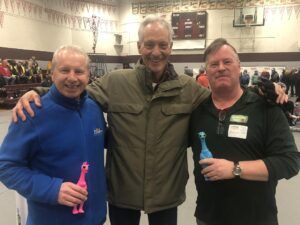 "I genuinely was surprised," says Dennis Chippa, Executive Director. "We weren't sure with the combination of people coming out of a pandemic and the struggles with the economy, we really thought it might be an off year for us.  So to see that kind of response was pretty heartwarming." 
He says coupled with donations that came in at the door, upwards of $57,000 or $58,000 will have been raised.  
"It goes towards all the operational needs, be it the operation of the kitchen, be it support for our outreach team, be it support into the spring and summer," he says. 
Chippa says their food rescue program brings in about 200,000 pounds of food a year but rising costs are having an impact. 
"We would have never survived without that," he says. "That being said there are still some things that we have to buy and having the cost going up, the cost of everything goes up, it's not just food, it's things like hydro and heat.  It's all of those things across the board that is that operational need."
Chippa says everyone has been impacted by the changes in the economy. 
"When people have to make that decision between rent and food, we tend to be the people that are the food people,' he says. "The numbers have gone up for sure."
He says their outreach program is being contacted by various agencies, schools, and paramedics doing wellness checks when people don't have food.
Chippa says their numbers are increasing at the soup kitchen but also with their outreach program. 
"Those are the kind of things we're seeing this year," he says. "We hadn't really seen to this extent in the past, so that's how it's impacting us," 
Chippa notes their outreach program will start going back into the outlying areas like West Nipissing, Mattawa and Powassan again in the spring.