Five area police officers are being recognized for their efforts in improving public safety. 
Constable Braeden Ransom and Detective Constable Anthoney Malden, with the North Bay Police Service were recently awarded the Axon RISE Award for their actions in a Trout Lake water rescue.
Around 3 am on July 17, 2021 officers and paramedics responded to the sounds of a female in distress in the water. 
They could hear screaming from the lake but because of the darkness couldn't see how far out she was.  
Police say with a marine unit about 45 minutes away, the two officers didn't hesitate, got in the water and located the female, who was brought to shore with assistance from two more officers.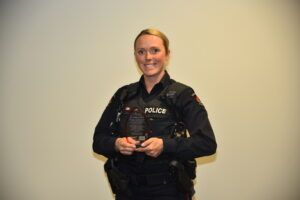 Meanwhile, North Bay Police Constable Meranda Wood was recently recognized by Mothers Against Drunk Driving (MADD) Nipissing for her work removing impaired drivers from the road.
In 2022, Cst. Wood laid the most impaired driving charges of all city police members, with charges filed in six separate incidents.
"I am very glad to see our members awarded for their heroic work," says  Scott Tod, Police Chief. "Our officers work tirelessly to keep the people of North Bay safe, often putting themselves directly in harms way to help others. They are truly deserving of this recognition."
Two officers from the North Bay Ontario Provincial Police (OPP) Detachment are also being honoured by MADD Nipissing or reducing the incidence of impaired driving.
The OPP says in 2022, Provincial Constable Larose conducted over 40 hours of Reduce Impaired Driving Everywhere (RIDE) initiatives engaging with hundreds of motorists. 
As a result of his efforts, he issued a three-day and a 7-day driver's licence suspension and charged seven drivers with impaired. 
PC Martineau also conducted over 40 hours of RIDE, three tests as a trained Standard Field Sobriety Test evaluator and four evaluations as a Drug Recognition Expert. 
The OPP says those incidents resulted in a three-day driver's licence suspension and six drivers being charged with impaired.