The North Bay Police Service is welcoming three newly sworn-in constables and a half dozen experienced officers to its ranks. 
The new officers, constables Allison Armstrong, Anna l'Ami and Tyler Whissell are all from North Bay while the six experienced officers are from other police services in Ontario and the RCMP in Alberta and Manitoba.
They include constables Nicole Bedard, Peter Franken, Austen Kooy, Andrew Leclair Caleb Weir and David Wright.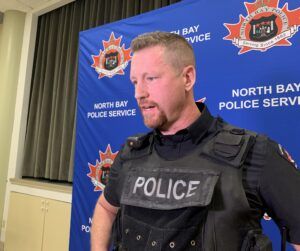 Constable Wright comes to North Bay from the Hamilton Police Service which gave him a lot of experience in a number of areas he hopes to bring here.  
"Working as a crisis negotiator, helping young people, the majority of my career was in an offender management capacity whether it was in the fugitive unit or bail compliance," he says. "There's a lot of skills that I think that I've developed down south that I can bring up here because we don't have those units due to the size of the service."
Wright says he moved here with his fiance, whose family is originally from North Bay. 
Constable Anna l'Ami is a Chippewa and Canadore grad and started with the city police service as a special constable in May 2021.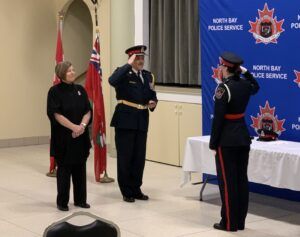 She says she played for the North Bay Ice Boltz and was inspired by an older player who became an officer. 
"I saw her in uniform and I was so inspired by that, to see a female in policing," l'Ami says. "I grew up here, went to high school here, played all my sports here.  My community has given so much to me that I just want to give back to them." 
Chief Scott Tod is pleased they have nine new officers, especially considering the hiring challenges there are for police services across the province.
"The larger police services are hiring by the thousands so finding police officers right now is very difficult," he says. "But, North Bay seems to be an attractive spot for young police officers or young people to join us.  I think it's because of the community first and the police service second.  I think there's a lot to offer in this community for a young person and a young family." 
Chief Tod also says having six new experienced officers will help the service in a number of ways. 
"Often they bring diversity in policing practices back to the North Bay Police Service and we can change our practice, change our policy and modernize with what they know," he says.
With the nine new officers, Tod says they now have 112 officers. 
He also says they have two new recruits at the Ontario Police College and will be hiring three new recruits this year.