Between 600 and 700 students, parents and robots will be converging on the city later this month.  
Team 1305 is hosting North Bay's 8th FIRST Robotics Competition at Nipissing University from March 24-26.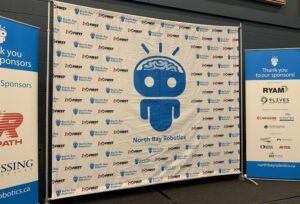 Nancy Dewar-Stenning, committee member and past tournament director, says 29 teams are coming for the event. 
"A team from Wikwemikong, another one is coming from M'Chigeeng, we have teams from Toronto, Huntsville, Sudbury, Ottawa, all across the province," she says. "It's pretty exciting bringing together all of these different groups."
This is the first full in-person competition being held locally since 2019 after a one-day event was held last year. 
Former Team 1305 member Jessica Kelso is now a STEM Program Coordinator for FIRST Robotics Canada and is looking forward to the hometown event.
"I started when I was about ten years old with LEGO League and then I progressed into high school robotics, then I mentored and now I'm a staff member for the company that I started out with," Kelso says. "It's been truly a full circle moment and I'm so excited to be able to share these experiences with other students and give them the opportunities I've had."
Team 1305 is back from a competition in Newmarket this past weekend where they won a silver medal.  
They also won the Engineering Inspiration award for making partnerships in the community and promoting STEM, FIRST Robotics and technology.
"At our first event that we went to there was a rookie team that didn't even have a robot that was fully built," says Inuka Silva, an executive council member with the local robotics team and Chippewa Secondary School student. "One of our mentors went and we got their robot built and they were ready to compete.  They did really well.  I know in general that energy is there, everyone just wants to help each other and compete at their best." 
Team 1305's robot this year is named Vector, after the math and physics term, and includes V for the 23rd element Vanadium, representing the number of years the team has been in existence.