An 18-year-old snowmachine driver was taken to hospital with minor, non-life-threatening injuries after a crash on Lake Nipissing Thursday afternoon.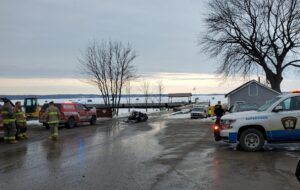 That from the North Bay Detachment of the Ontario Provincial Police.  
The OPP says the operator lost control after going over a hole in the ice in Callander.
The crash happened just after 4 pm Thursday with police, paramedics and the Callander Fire Department responding.