Details have been announced on a new inclusive playground for the downtown waterfront area.  
The City of North Bay is partnering with the Rotary Clubs of North Bay and North Bay-Nipissing to add the playground, which will be located onsite and integrated with the splash pad.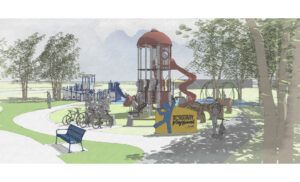 The nautical-themed playground will feature two free-standing play structures – a logging boat and lighthouse – and will include an accessible rubber safety surface, sensory play centre, seating areas, lighting and landscaping.
"The addition of a playground in this location will further enhance an already popular community space that we hope families will enjoy for years to come," says Councillor Lana Mitchell, Chair of Infrastructure and Operations. "I would like to thank Rotary and all those in our community who have supported this project."
The project is expected to cost approximately $1.2 million and is being supported by the Northern Ontario Heritage Fund Corporation, which is providing $437,693, as well as the Rotary Clubs of North Bay and North Bay-Nipissing, which are contributing $110,000. 
The local Rotary clubs also provided $500,000 in donated funds to support the construction of the Family of Rotary Splash Pad several years ago.
"The Rotary Club of North Bay and the Rotary Club of North Bay-Nipissing are thrilled to be partnering with the city once again by providing an additional funding commitment toward this new playground,"
say Rotary spokesperson Bill Hagborg. "The playground will be complementary to the Family of Rotary Splash Pad and will provide another accessible and attractive play area for children."
The city says a contract will be brought to council for approval on March 28, with work expected to get underway in early spring, if awarded.