Kev's Kids radiothon returns to the airwaves next week.  
Country 90.5 FM morning show host Kevin Oschefski will be broadcasting for 29 straight hours, raising funds for Rotary4Kids in support of area children and youth with special needs.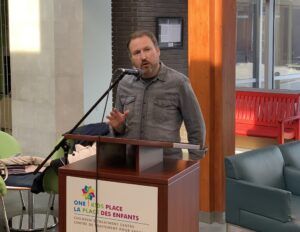 He says the goal is to help as many kids as possible. 
"As soon as we turn the microphone on and we raise one dollar, it's one dollar we didn't have two minutes before," Oschefski says. "I try to look at it as it's not about the dollars, it's about how many kids can we help.  The more money we raise the more kids we can help.  So, let's not put a dollar figure on it, let's just try and help a whole bunch of kids."
Officials say since the fundraiser began 21 years ago, over $1.4 million has been raised.  
Funds go towards the purchase of assistive devices, programming, uninsured medical costs and more.  
Seven-year-old Jillian, a grade two student at Holy Cross Catholic Elementary School is this year's ambassador. 
Mom Carly Johnson says they're happy to be involved in raising awareness and funds for these important programs and initiatives. 
"Things are always a little bit different when you have an exceptionality or a special need," she says. "We've had a lot of chances through One Kids Place and we're looking forward to joining up with the Nipissing Association of Disabled Youth (NADY) as well. They do a lot of amazing programming.  It just gives kids with exceptionalities a chance to participate and that's the biggest thing that we really want to get out there to the public."  
Donations are already being accepted online and can be made by phone or at the radio station (122 Main Street East) during the broadcast, which starts at 5 am on March 30. 
Something new this year will be the 'Kev's World Tour' as Oschefski and others bring the broadcast on the road to visit various businesses and groups collecting donations.