A Registered Nurse in the emergency department at the North Bay Regional Health Centre (NBRHC) is being honoured for her leadership.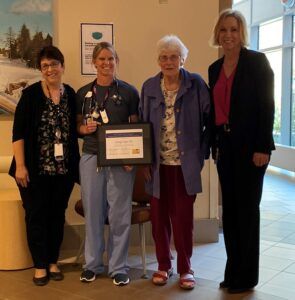 Jenny Ryan, who has worked for the hospital for more than 20 years, is the 2023 Leslie Burt-Manary RN Leadership Award recipient. 
Officials say Ryan is a leader and role model for other nurses, taking on many formal and informal leadership roles and effortlessly collaborating with various teams.  
She also volunteered and travelled to the Ukraine-Poland border in May 2022 to care for displaced patients fleeing the Russian war.   
"This award is a significant part of our celebration of Nurses Week. It highlights the qualities of nurses, their knowledge, skills, compassion and dedication to patient care, no matter what circumstances they are facing," says Joanne Laplante, Vice President and Chief Nursing Executive, NBRHC. "Congratulations to Jenny and best wishes as we celebrate her achievement and Nurses week."  
NBRHC says the award honours Leslie Burt-Manary, a dedicated nurse who died of cancer in 2017.  
To celebrate Leslie's life, her mother established an endowment fund, and award as a lasting legacy to celebrate nursing leadership, which provides an annual grant for professional development.  
The award was presented during National Nurses Week, May 8-14.