The 22 Wing Fitness and Wellness Centre has been renamed to honour a fallen service member.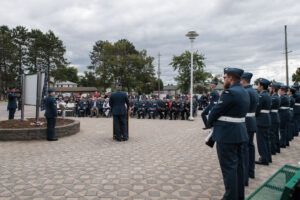 Master Corporal Jean-Pierre Legault, a communications technician, was killed in September 1995 when the Airborne Warning and Control System aircraft he was on crashed in Alaska after a bird strike.   
"Today, we paid tribute to the enduring legacy of my brother, Jean-Pierre – his service and his sacrifice," says Michel Legault.  "Our family's heritage is woven with threads of dedicated service to the nation, raised on NORAD bases spanning the country. Additionally, Jean-Pierre's passion for sports finds resonance in renaming the fitness centre right here in North Bay – a fitting homage to the essence of who he was and the passions that fueled his life."  
All 24 crew members on board the plane were killed, including Sergeant David L. Pitcher, a fellow Canadian.  
Pitcher, an Air Defence Technician, was honoured when the above ground NORAD complex opened in North Bay in 2006.