The Salvation Army has started its fall food campaign.  
Major Stephanie Watkinson, Corps Officer (Pastor) says the One Bag Challenge to restock their shelves is underway until the end of October.  
"This is a great way to challenge your friends and family, so everyone donates," she says. "It's a simple process. Buy a bag of groceries, post a picture of yourself on social media and challenge three of your friends."  
Watkinson says food insecurity is a huge problem in our community.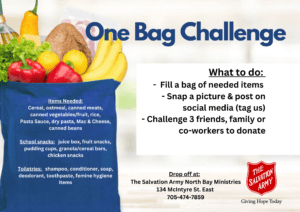 "More people are coming in and our ability to buy food is also shrinking because the cost of food is going up," she says. "We work solely on donations from the community, whether it's financial or physical donations. We are really finding it a stretch to meet the need."  
Donations of non-perishable items, school snacks and toiletries can be dropped off at 134 McIntyre Street East 
Watkinson also says they can arrange for pick-up of larger group donations, too.  
She's hopeful they receive enough supplies to help them get through the next 3-4 months.