A local community podcast network is now online.  
North Bay Echo launched Thursday morning.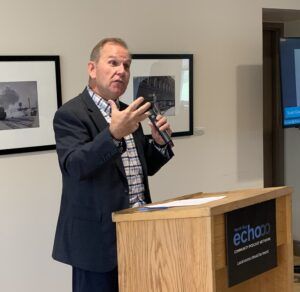 Scott Clark, principal partner, says the idea started with asking how to find a local podcast.
He says it's actually not that easy, so they put together the network with local stories that are highly accessible.  
"Podcasting is really a global phenomenon, and you can find voices from all over the world," says Clark. "But, really honing in on local content and local voices. That's what we want to do. We want to elevate those local voices and stories at a local level."  
Right now, podcasts include 'To North Bay With Love', covering the community and culture.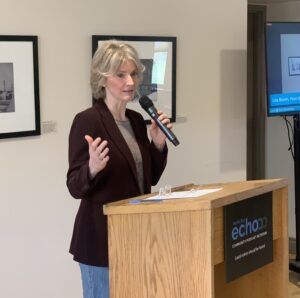 "It's really Lisa Boivin and a love letter about day-to-day activities in North Bay, issues and interviewing people," says Clark. "One of the first interviews she has is with Maggie Horsfield. It's about Maggie being the deputy mayor, being a brand-new mom, having a full-time job and juggling being the deputy mayor of the city. It's common issues facing many people."  
There's also The Backroads Bill Podcast exploring the history and beauty of the north, Small Town Times with life views from North Bay and the Frontline Podcast covering sports. 
Officials say more Echo-branded podcast shows are in the development process to be launched in coming weeks.  
They include shows about community issues, high school sports, entertainment and business. 
An Echo Essentials newsletter will also connect people to stories and podcasts. 
For more information visit northbayecho.ca