A large crowd of demonstrators and counter-protestors descended on North Bay City Hall Wednesday morning.
The group, "1 Million March 4 Children" says it's against "gender ideology" in schools.
Michelle Lashbrook, a speaker at the event, says it's not about hate but about indoctrination with material being presented in schools.
"The question of 'is this appropriate for this age group' is a big question that needs to be answered and a lot of people think no," she says.
Lashbrook says there's a lot of propaganda that's fueling the talk about hate and not a lot of dialogue on a "touchy, emotional subject."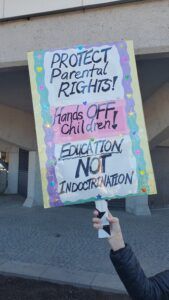 "People were saying you're trying to cancel trans kids. No, I'm not. In my family and friends circle there are gay, lesbian and
transgender [people]," Lashbrook says. "It is not about being against them. It's about being against the curriculum that's in schools or at least having the right to express your opinion about it and asking for change."
Earlier this year, both Saskatchewan and New Brunswick adopted new gender and pronoun policies that made it so parental consent is needed for students under the age of 16 to change their given names and/or pronouns at school.
Here in Ontario, both Stephen Lecce and Premier Doug Ford have touched on the subject, stating parents must be involved and informed of what is happening in their children's lives.
A spokesperson for Premier Doug Ford's office said earlier this month, that the government is not currently planning any legislation that will force teachers to disclose information to parents.
Lashbrook says the school boards are breaking the bond of trust between parent and child.
"When our children are growing up, we teach them about recognizing predators, or stranger danger. One of those things is when an adult tells you to keep secrets from your parents. That's happening in our schools and they have no place," says Lashrbook.
She adds there needs to be something in place for kids in unsafe homes, too.
"There's always circumstances where a child does need to be able to talk to somebody and not have their parents know, because they're not in a good family environment. And that should always be open. No child should be discriminated against. That's why a lot of us are here. We don't hate, we love our children and we're not happy with the curriculum."
Ashley Di Benedetto with the AIDS Committee of North Bay and Area is one of the counter-protest organizers.
"We organized this counter-protest to show that regardless of other opinions, regardless of anti-queer movements that we are visible, we are seen, we support each other and there is no place for that kind of mentality in this city," she says.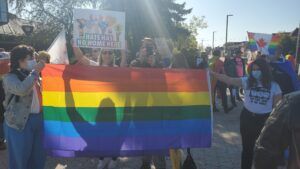 She adds in classrooms, children are being taught about all of Canadian history.
"We don't avoid talking about things like the Holocaust because it was scary, right? We teach our kids about that. At the same vein, we need to teach our kids about Canada's queer history. We need to teach our kids about what it means to be part of the 2SLGTBQ+ community. Even if they're not part of it, even if they don't identify as part of it, they need to know what it's like to be a part of it," says Di Benedetto.  "So they can create safe, equitable,  accessible, healthy, happy places for their peers, for their friends, for their families and for their parents. It's not about telling them, or brainwashing them that they're gay. […] It's about educating them about what that's like, what that means, and how we create safe spaces for each other."