Update #4: Highway 11 is still closed due to a fatal collision. OPP Collision Investigators collecting evidence. The clean-up of vehicles and loading of debris will take time. OPP says that the weather is still bad, so try and stay off the roads to let the crews work safely (1:28pm).
Update #3:  Highway 11 near Temagami still closed. OPP still investigating the crash and reports the only detour is through Quebec, via Highway 101. OPP tweets: Delay or cancel travel plans during bad weather (1:06pm).
Update #:2 OPP says Collision Reconstruction Investigators are working on scene, south of Temagami. The highway will be closed for the next few hours (posted 11:23am).
Update #1: Photo provided by the OPP of the scene of the collision.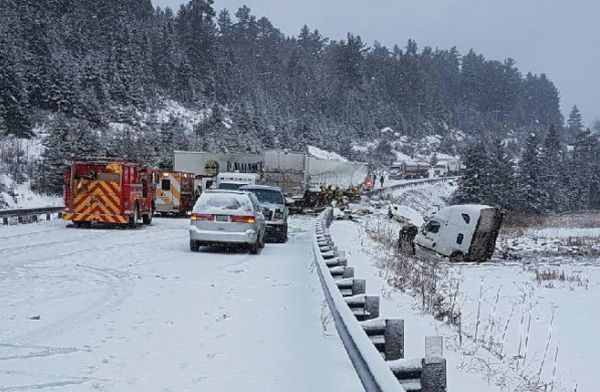 The Temagami Detachment of the OPP has initiated a road closure due to a serious motor vehicle collision on Highway 11, north of North Bay.
The collision, involving two tractor trailers, occurred at approximately 9:00am at Tonomo Lake Road between Marten River and Temagami. All lanes are closed and there is no detour available.
MyNorthBayNow.com will provide details and updates as they become available.