Work is well underway to replace the old Duchesnay Creek Bridge at the west entrance to North Bay and Nipissing First Nation (NFN).
The Ministry of Transportation says NFN is the general contractor on the $14 million project and is using Miller Paving Limited to replace the former bridge.
Kristin Franks, the MTO's Regional Issues and Media Advisor, says the new bridge is set to open to traffic sometime next fall.
The ministry announced earlier this year that the Duchesnay Creek Bridge was scheduled to be replaced later this year and shortly after that announcement it closed the bridge earlier than planned over safety concerns.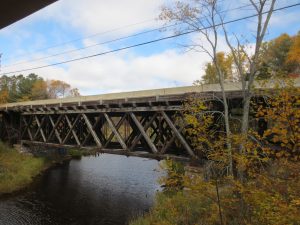 The Duchesnay Creek Bridge is a unique structure in that wood was used in the construction when it went up in 1937.
Franks says during the early 20th-century concrete and steel became the preferred material for bridge construction.
She adds during the 1930s new forms of wood preservation resulted in a resurgence of the use of timber for Northern Ontario bridges.
Franks says, as a result, many wooden structures were built across the region at that time.
Franks says the Duchesnay Creek Bridge is the last remaining timber deck truss bridge in Ontario.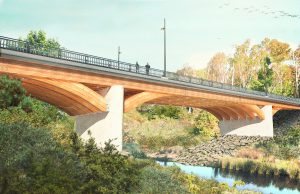 It's with that in mind the decision was made to incorporate some timber elements in the new design as a nod to the bridge's heritage.
Where the former bridge was a 10-span timber deck truss bridge, Franks says the new design incorporates three spans.
In addition, the replacement bridge will be 98 metres long and 13 metres wide making it larger than its predecessor which was 73 metres long and 11 metres wide.
Franks says on the east side of the bridge the roadway will be lowered to improve the line of sight for traffic in both directions.
This work is being carried out at the same time.
Work on the replacement bridge will continue throughout the winter.