The Pride flag and colours can now be prominently displayed by North Bay Police officers.  
With June being Pride month, Chief Scott Tod says they have created police-issued ball caps with the Pride flag and colours spelling out 'Police' on the back.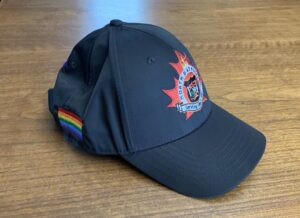 "Members in the service are encouraged to wear a hat year-round if they wish and choose to do so," he says. "We also have a Pride patch with the Pride flag that has been imposed upon a patch with a velcro attachment that members can wear on their vest." 
Tod says it's about showing support for the Pride community, and more. 
"It's also to understand and recognize the systemic discrimination that may have occurred in policing in the past and our commitment to work with the Pride community and all other groups in our community, regarding inclusion and equity," he says. 
Tod says the police service represents what the community is and the hat is just a small token of the effort they want to make toward developing equity and inclusion in the community. 
Jason Maclennan, Communications Director for North Bay Pride issued the following statement in regards to the police patches:
"Chief Scott Tod and the North Bay Police Service have been working with North Bay Pride to improve their relationship with the 2SLGBTQ+ community. They want all communities to know they are changing and working towards inclusion for all.  It is a step to show communities that they are hearing the call for change in policing, how they approach things and they want the community to know they can reach out for help.  Chief Tod has made a commitment, to ensure the community is safe no matter your sexual orientation and he wants us to know, they are progressing with the times. Unlike Toronto, we have a greater opportunity to work with the police, to improve relations and learn from each other for the betterment of everyone. They are walking the walk. Last year, they were the first police service in North America to understand and endorse the U=U Campaign for those living with HIV. We can all do better and we are doing better than before. And that speaks volumes."