Planning is officially underway for the 7th annual Feast on the Farm.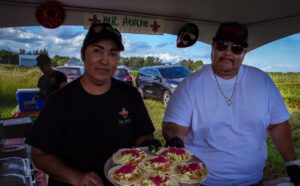 The event, organized by the West Nipissing Chamber of Commerce (Chamber), features local chefs, sourcing local ingredients, cooking up food and serving it to the community on a local farm.
The event will be taking place on Leisure Farms in West Nipissing on August 7 and it's the first time it's going to be returning since the pandemic.
Zack Lafleur, Executive Director at the Chamber, says he wants the event to come back stronger than ever, adding 550 tickets will soon be up for sale.
"Essentially, our guests walk through Leisure Farms, sample dishes made by each chef, and that makes up a full meal," he says.
Lafleur says though he currently has chefs booked, he is looking for more participation in order to have a successful event.
"We're having a little difficulty getting chefs this year. We've increased our chef package, and we providing participating chefs $1,500 to make a small dish for 550 people," he says.
The event, Lafleur says, focuses on the farmers as well.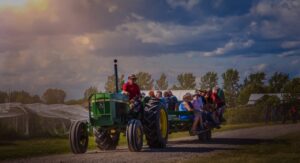 "That's why the chefs must use local ingredients," he says. "The event really brings everyone together, from chefs, farmers, and the community as a whole."
Lafleur says there are plans for more entertainment this year in celebrating the event's return, including more music.
"We won the culinary event of the year award in 2020, and we're so proud about that," he says. "We want to come back with that same energy."
Lafleur says the award came from the Tourism Association of Ontario, and the Chamber went up against events from across the province.
"It really put us on the map. To be recognized for our event in a small community, we were really appreciative and showed the hard work we put in paid off, all while promoting our chefs and everyone who participated as well."
Lafleur says it's important to him that this event matches the energy of 2019's Feast on the Farm.
"I really want this event to be at the very least at the same level that 2019 was," he says. "If I feel like it's not going to match that same level, then I'm going to have to re-evaluate the situation. I want this to be a great event."
Lafleur says if you're a musician, chef or a sponsor and interested in participating in the event please visit www.westnipissingchamber.ca/fof22 or email Zack at admin@westnipissingchamber.ca