Ownership of the Mackay Homes seniors complex is being transferred to the Nipissing District Housing Corporation (NDHC). 
The 65 units on Olive Street have been run by a volunteer board for the past 60 years. 
Catherine Matheson, CAO of the District of Nipissing Social Services Administration Board, says with the transfer, current residents will continue to live there under their present leases. 
"It's a big change for the tenants that are living here, there's no question, but the principles going into it are the leases will stay the same," she says.  "What we're doing is maintaining the affordable housing for all these tenants and into the future for this district." 
Matheson says when new tenants come into vacant units they will look at increasing rents, but still keeping them affordable. 
"When the vacant units do come up it'll be a chance for us to invest into the site a little bit more, making it a little bit more attractive, more sustainable, energy retrofits, etc," she says. "But again I have to emphasize completely affordable units."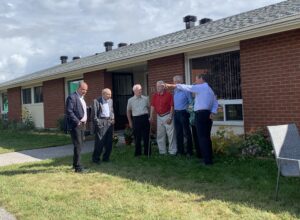 With the transfer on Friday, Sept. 16, the Mackay Homes units will be added to the NDHC housing stock of more than 830 rent-geared-to-income and market rental units within the District of Nipissing.
However, Matheson says they will still be short of provincial standards. 
"We're at about 135 that we have to move forward with to get the district at par with their expectations," she says.  "We've done a lot of movement in the last two years and I'm sure that in the next three to four years we'll be at par with where it's supposed to be with the provincial government." 
In a release, NDHC says site development work has been done at 1040 Brookes Street. 
Construction on additional potential units is being planned for next year.
When council approved a rezoning request in June, the proposal included 41 units on part of the former MacDougall Public School site.